Interview with
Tsvetelina Stoynova
3 years ago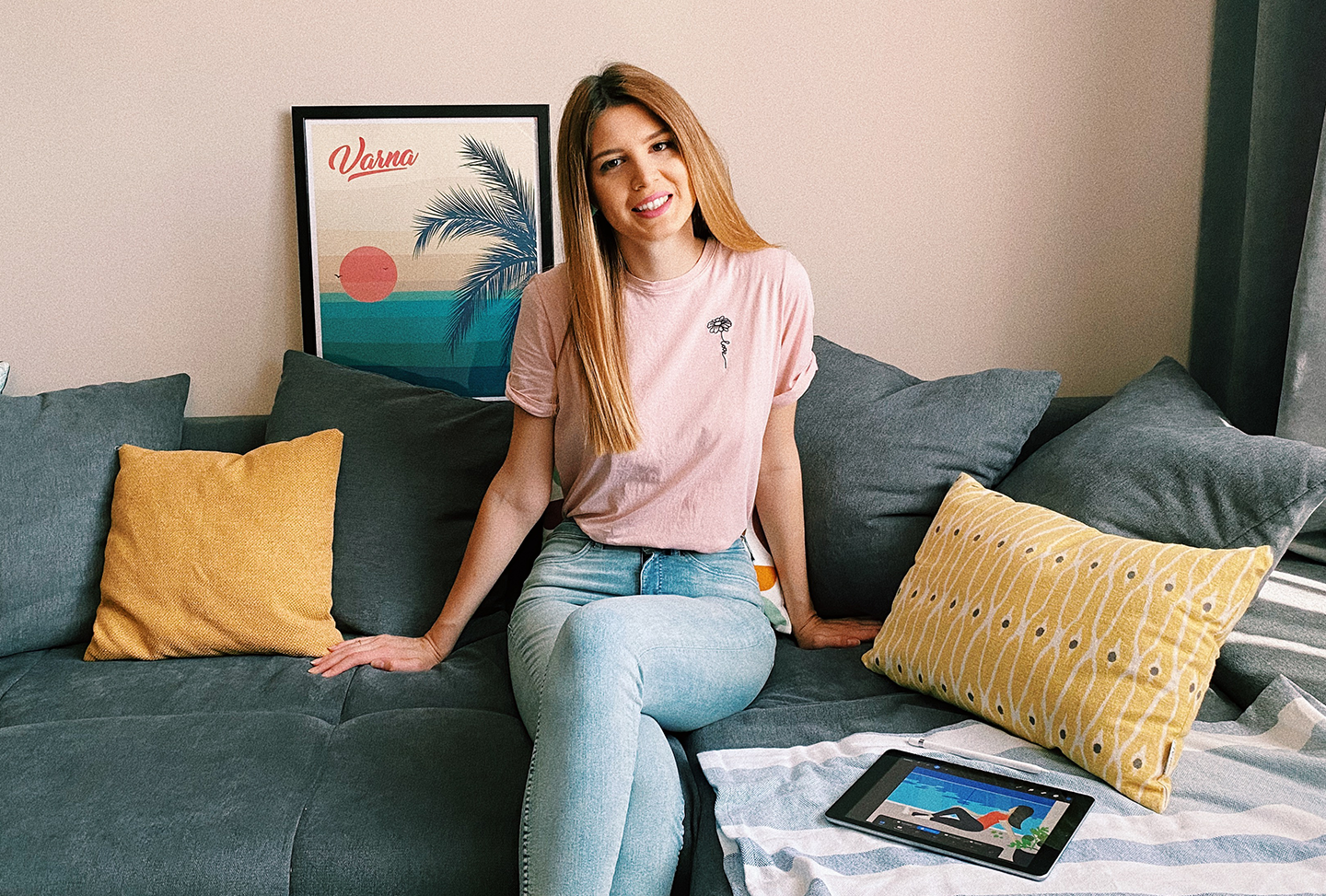 Working remotely really makes you the boss of your time
Tsvetelina is a senior web designer at iGaming - an international online marketing company, operating in the sphere of online gaming and gambling. Apart from that, she works as a freelance designer and illustrator, striving to leave her own marks during her career path. She also co-founded Varna Buddies - a merchandise project, inspired by the city of Varna - its beauty and people.
Learn more about Tsvetelina.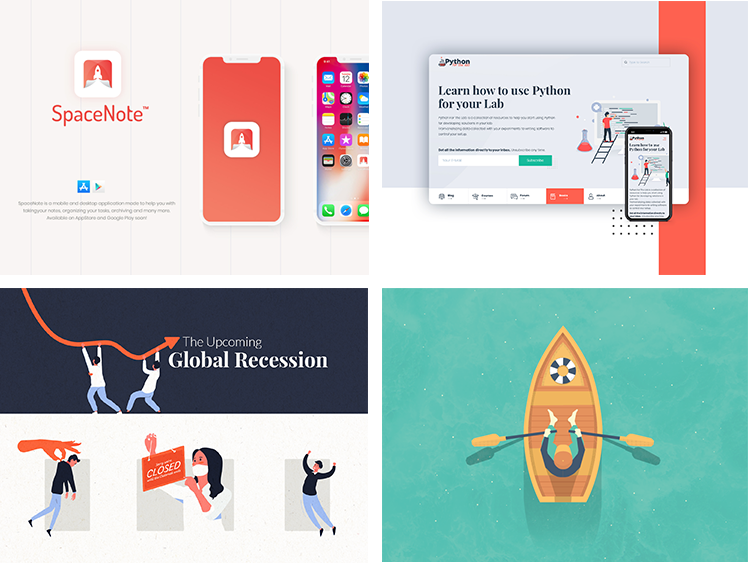 A few words about yourself?
My name is Tsvetelina, 25 years old. Born and raised in Varna, Bulgaria. I've lived in Sofia for 4 years while my graphic design studies in the university lasted, but after that, I rushed back to my hometown and to the sea, as fast as I possibly could. I've been exploring various directions of design, but I'm currently most passionate about web design. The possibilities there are almost infinite (thanks, fellow front-end developers), the niche is developing so fast, it's almost impossible to get bored, which is awesome if you have a creative job. For the past 1-2 years, I also took illustrating from hobby to something I do on a professional level. Combining that with designing for the web can really make magic!
In my freelance projects, I strive to help my clients to find the right voice for their brand or project and involve them in the process as much as possible so that we can establish a working relationship based on trust and understanding. It's an amazing feeling to see the smile on the faces of your clients as they see their project growing and developing.
Currently, the personal project that is closest to my heart is Varna Buddies. I find my inspirations in so many ways and places - listening to the seagulls fighting over a piece of bread at 6:00 in the morning, just wandering in the small streets of the city and mostly - the people who share the same warm feeling for this city like we do. The first time I saw an unknown girl wearing a t-shirt from our brand, randomly in the streets I screamed out of joy like a little child. Complete weirdo, but emotions like these are the things that keep me going.
Do you usually work remotely or only due to the pandemic?
I usually work in the office with a design team of 6. Having other creatives around you can really be helpful if you find yourself stuck, but it also can be quite messy. On my freelance and personal projects, I'm working from home, so working remotely is not unfamiliar territory for me.
When did you start and what challenges did you face in the beginning?
I started working completely remote approximately 1 month ago. The main challenge that I faced, hands down, is the getting up from bed in the morning on time. The fact that I didn't have to get ready for so long and fight with the traffic in the morning played a bad trick on my mindset. Thankfully I'm starting to get back on track. It just takes determination, nothing more, nothing less.
What are your pros and cons of remote work?
Starting with the positive side - it really makes you the boss of your time. The extra hour or two that I usually spend on getting to work, to the gym or to run some errands can now be invested in things way more valuable. And no, I'm not only talking about learning new skills or getting even more work done. Of course, those things are great, but they are not what counts at the end of the day. Spending time with a loved one, with your family or just with yourself in order to care for your mental and physical health, to reach out to a friend that may be having a hard time dealing with the situation, that's what holds the highest value, at least for me.
I do miss the eye-to-eye contact though. Regular talks or just a hangout for some coffee in the fresh air with colleagues helps my brain to rest and then get back to work recharged.
What is your workspace setup?
Usually, it's quite messy. Those photos are one big and fat lie. :D I work on an Acer Predator (don't ask), combined with a 27'dell screen, since for web projects just a laptop screen is hardly enough. Pencils. sketchbooks and the iPad that I use for illustration are also part of my permanent setup.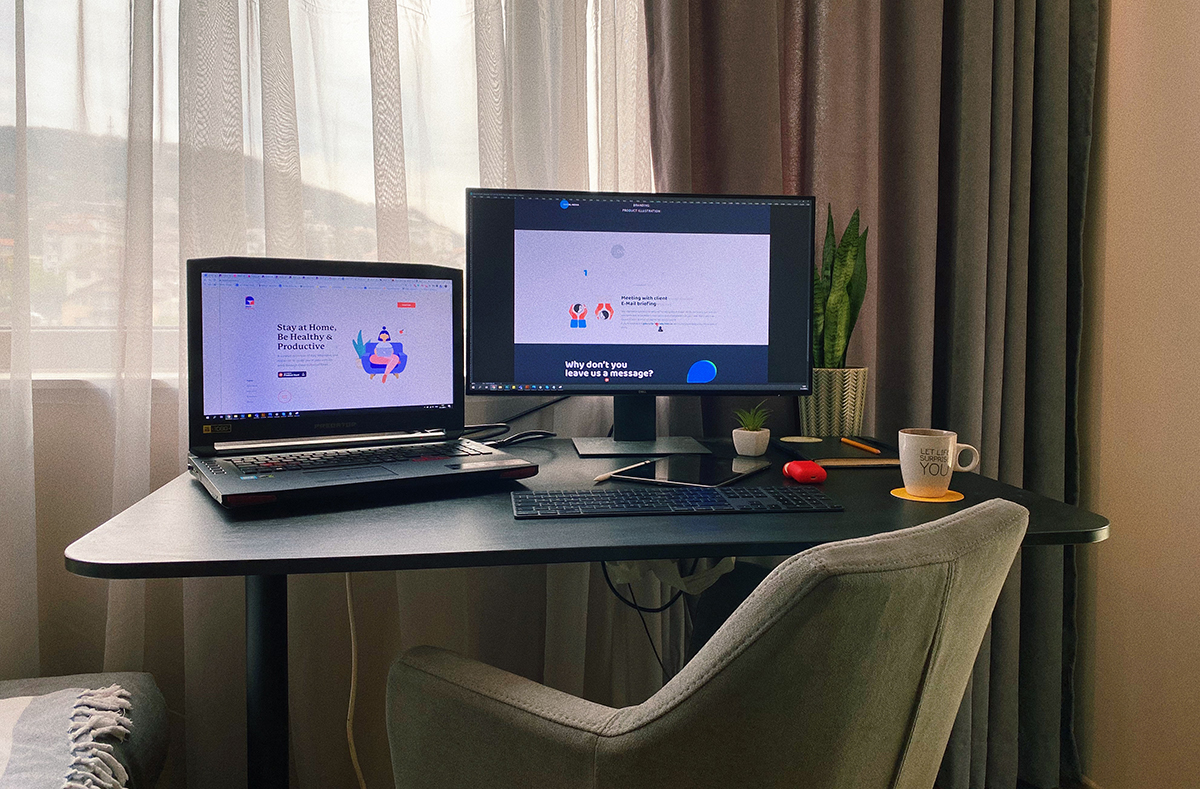 What is your typical day like?
I wake up around 8-8:30, I make some breakfast and catch up on reading some materials that I've saved. It helps me get inspired at the very beginning of my day. Around 10 I'm leaving all distractions behind, at least I'm trying to, and start focusing on my daily tasks in the company that I'm currently working in. At lunchtime I usually go for a walk or a quick run - it does magic with my focus in the afternoon hours. I check my emails and some creative networks and then get back to work. I'm trying to finish with it by 18:00, so what's left of the day is divided by workouts, cooking, catching up on some TV shows or video games and taking care of my freelance or personal projects - depends on the level of energy I have left.
How do you stay focused and healthy?
I have online workout group sessions at least 3 times a week and I go for regular walks with my dog every day, it really helps me clear my mind and focus easily once I get back to work.
What collaboration and communication tools do you use?
For company meetings and discussions we use MS Teams and Skype. As for communication with my personal clients, I'm going pretty old school - emails and phone calls :)
Instant or asynchronous communication?
For sure - when a meeting can really be just an e-mail asynchronous communication is the way to go.
When I'm kickstarting a new project though, I prefer instant - it helps me get to know my future clients and easier to figure out what will be the best type of product for them.
Would you change anything in your regular working routine once the pandemic is over?
I think I'm very close to finding the perfect balance between working and getting some "healthy" distractions so that I don't get over-jammed and that I can stay productive for a longer period of time. I'll do my best to keep that type of workflow when I get back to the office.
What is the funniest place where you've had to get your laptop open?
Not so many actually. I like to have a steady border between my personal and working time. I tried working from a beach bar once or twice. Disaster.
No-pants, pajamas or regular clothing?
Regular clothing, always. It tells my mind that the resting and laziness are over and it's time to do get some work done.
Would you like to add anything else?
Just a piece of friendly advice - don't go too hard on yourself. This situation is not a productivity contest. Stay safe, but also stay sane and protect your inner peace.
---