Interview with
Dobrin Vitanov
3 years ago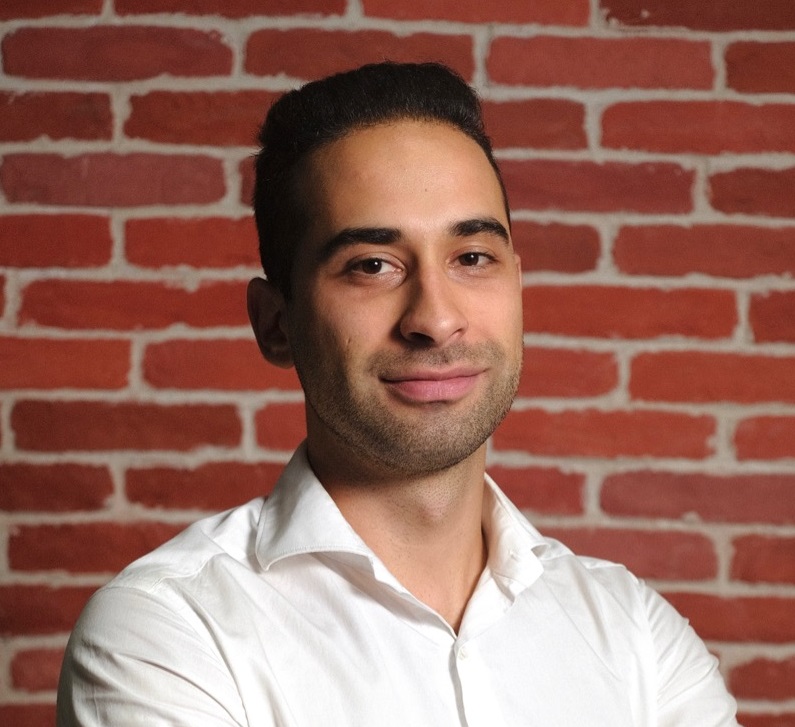 Answering messages late at night is definitely not a good practice
Dobrin works as a management consultant specialized in Business Analysis, Business Process Design and Project Management.
The company he works for, Brightive, is a fastly growing management consulting company delivering tailored and high-value project management and business analysis services to large and complex IT-enabled change programs of multinational corporations mostly based in Western Europe. Brightive's international client base spans across the government, telecommunications, healthcare, financial and utility sectors.
Learn more about Brightive.
---
A few words about yourself?
I am a Management Consultant both as a profession and a hobby. In my full-time job at Brightive I am engaged as a Business Analyst delivering business process modelling services for a large digital transformation programme at a major UK-based telecommunications company. Outside work, I am a Founder and Advisory Board President of 180 Degrees Consulting Sofia - a non-profit management consultancy run by students and young professionals providing socially conscious organizations in Bulgaria with high quality strategy consulting services. I also love doing all kinds of sport and watching history documentaries.
Do you usually work remotely or only due to the pandemic?
I am used to working remotely thanks to the mixed-shore service delivery model employed as business as usual by Brightive. This means that even though I work for projects of companies based in Western Europe I do my job at least half of the time from our office in Sofia leveraging cloud-based toolsets. I need to be onsite only when face-to-face interaction is required. Hence, the current situation is not something completely new to me.
When did you start and what challenges did you face in the beginning?
Already before the virus outbreak across all Europe in March I have already worked remotely for a month, as my last business trip to the UK was in early February. The difference for me after the imposed state of emergency was that I now had to work remotely from home rather from the Brightive office in Sofia. To an extent, this was challenging as I tend to be more focused at the office, as I have fewer distractions given the more formal work settings. Of course, being around my colleagues who look quite hard-working also helps me be more productive and efficient.
What are your pros and cons of remote work?
With no doubt, working from home allows you to be more flexible with your working time, as well as to save on some time travelling to the office (hence, more sleep and more time for yourself).
The convenience of your home can further limit stress and increase intrinsic motivation.
It can also be a slippery slope though, as in some cases the controlled environment of the office makes it easier for me to concentrate and execute my tasks in a timely manner. Furthermore, working from home means less collaboration and missing out on the opportunity to work side by side with your colleagues, which can be a strain on your mental health as well.
What is your workspace setup?
My laptop, of course, along with webcam, headset and my TV that I use as a second screen, which I often need. All of this I use mostly on my living room's table but, for a change, every now and then on my couch as well.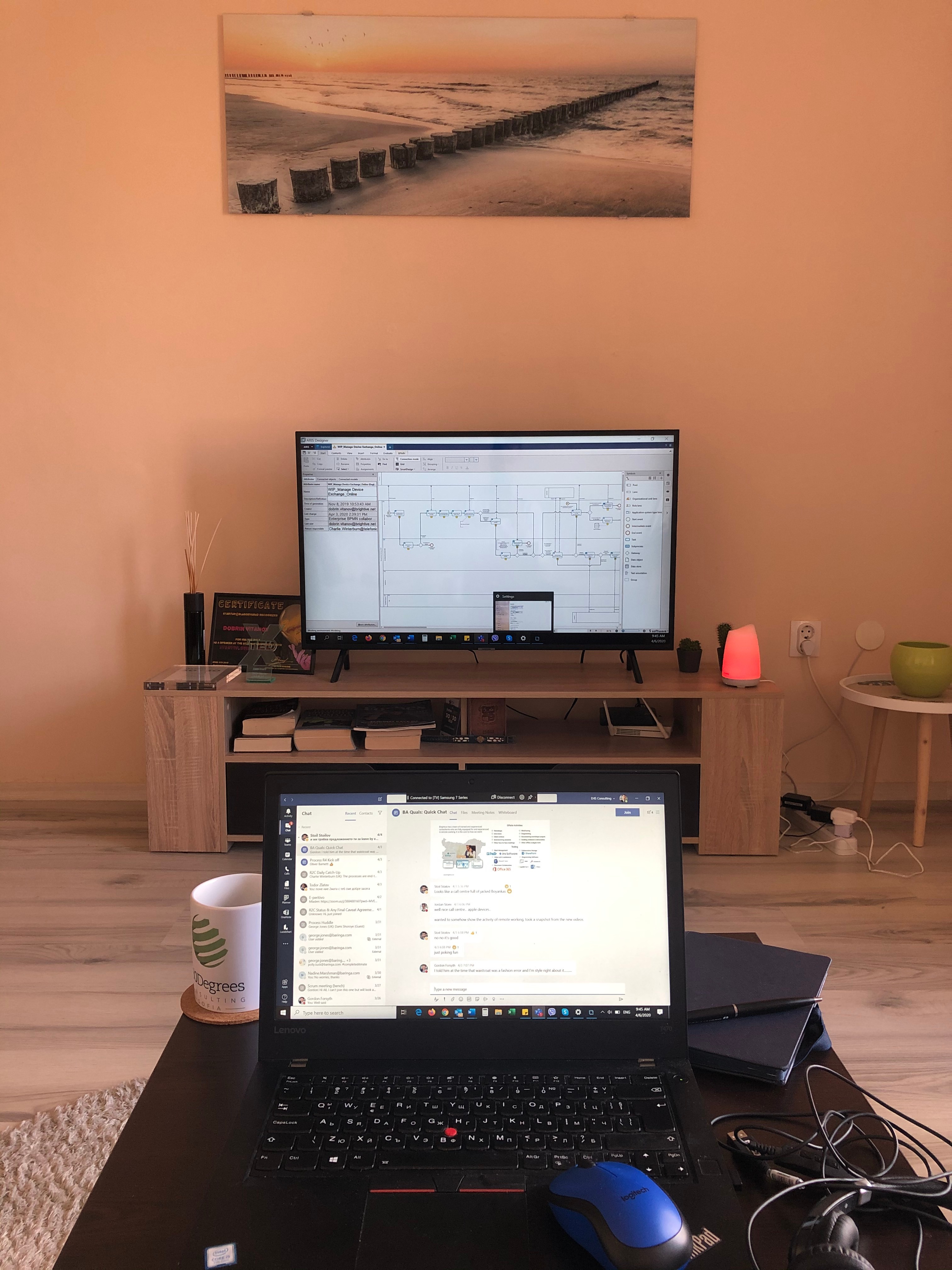 What is your typical day like?
I try to always get up no later than 8:15-8:30. I take a shower and have a breakfast snack with my morning coffee on my balcony to get some fresh air before I start my laptop around 9:30. As I work with clients from the UK, my morning is usually rather quite with no meetings but rather some small technical tasks. I really like to listen to some chill music in the background while doing those. Then, my afternoon is usually full of back-to-back meetings often going up to 7 pm.
How do you stay focused and healthy?
I try to keep a steady routine for myself at home – get up on time, get dressed and sit down at my table to emulate my office environment as much as possible (definitely don't work from bed). I also regularly do exercises at home and at least once a week go out to do some jogging. Another thing I do is try "switching off" during non-working hours and not paying attention to any work-related notifications that might pop up. However, I admit that some days I get into "I'm working all the time" mode and start answering messages late at night, which is definitely not a good practice.
What collaboration and communication tools do you use?
Microsoft Teams, Zoom, Skype, Outlook, Whatsapp
Instant or asynchronous communication?
It very much depends on the context, topic complexity, and desired outcome. We always need to consider this before going for one of these two types of communication so that we don't get to realize that this meeting could have been an email.
Would you change anything in your regular working routine once the pandemic is over?
Yes, for sure. Even though I can do my job from home almost equally as well as in the office, I'd always prefer to be at the office and collaborate face-to-face with my colleagues.
What is the funniest place where you've had to get your laptop open?
In a fancy restaurant when I got hit with that #plsfix message from my boss while having my third wine.
No-pants, pajamas or regular clothing?
Regular clothing by every now and then adidas track pants with a shirt.
---