Interview with
Milena Trifonova
3 years ago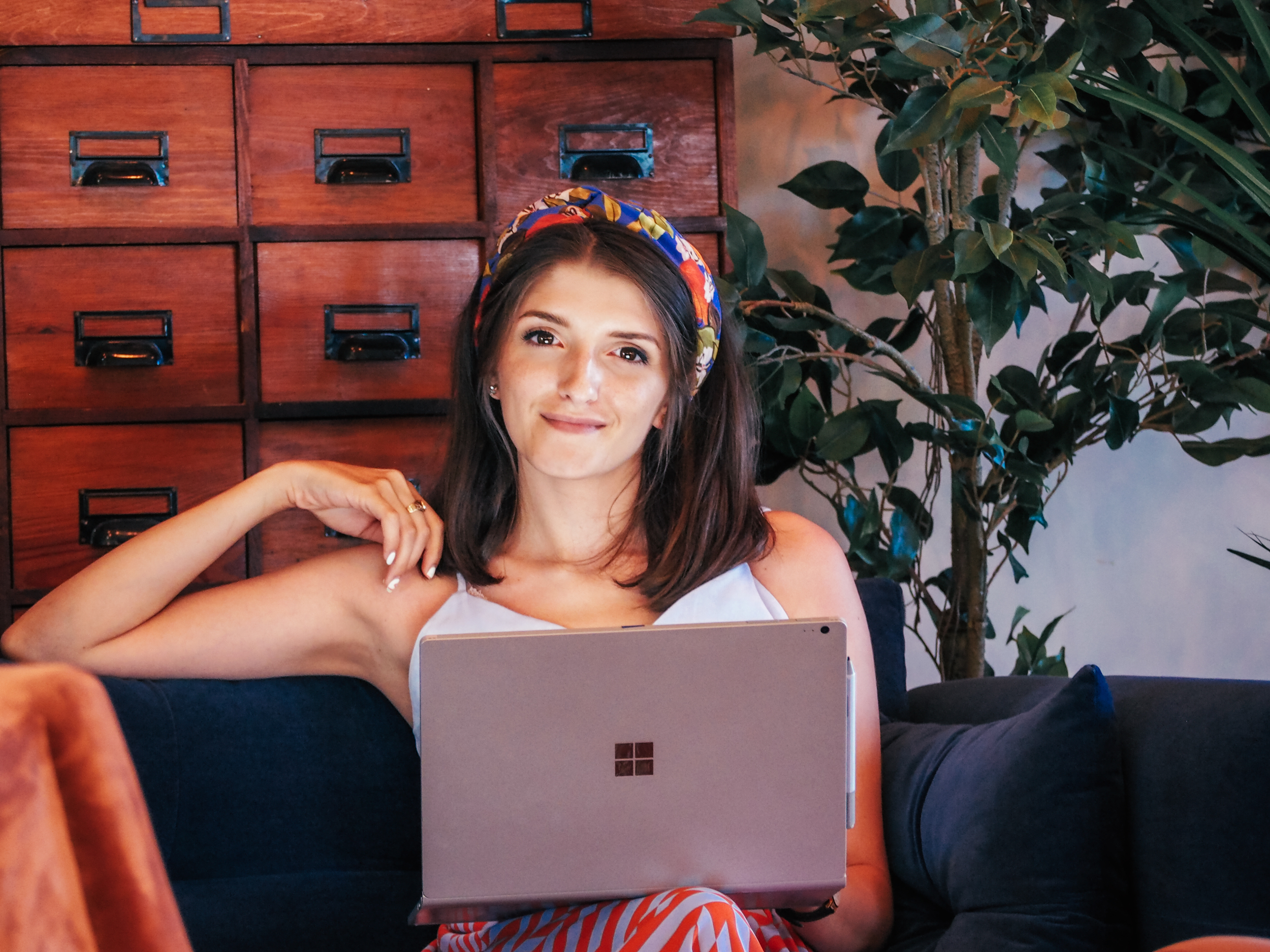 Be nice to people, create and inspire! Also, there is no planet B.
Milena creates illustrations and designs for passion-driven businesses that seek to connect with their audience and achieve their business goals! She is a one-woman army at her own company. Her goal is to create visuals that feel close to the audience but also bring modern vibes.
You can check out her work on Instagram and Dribbble!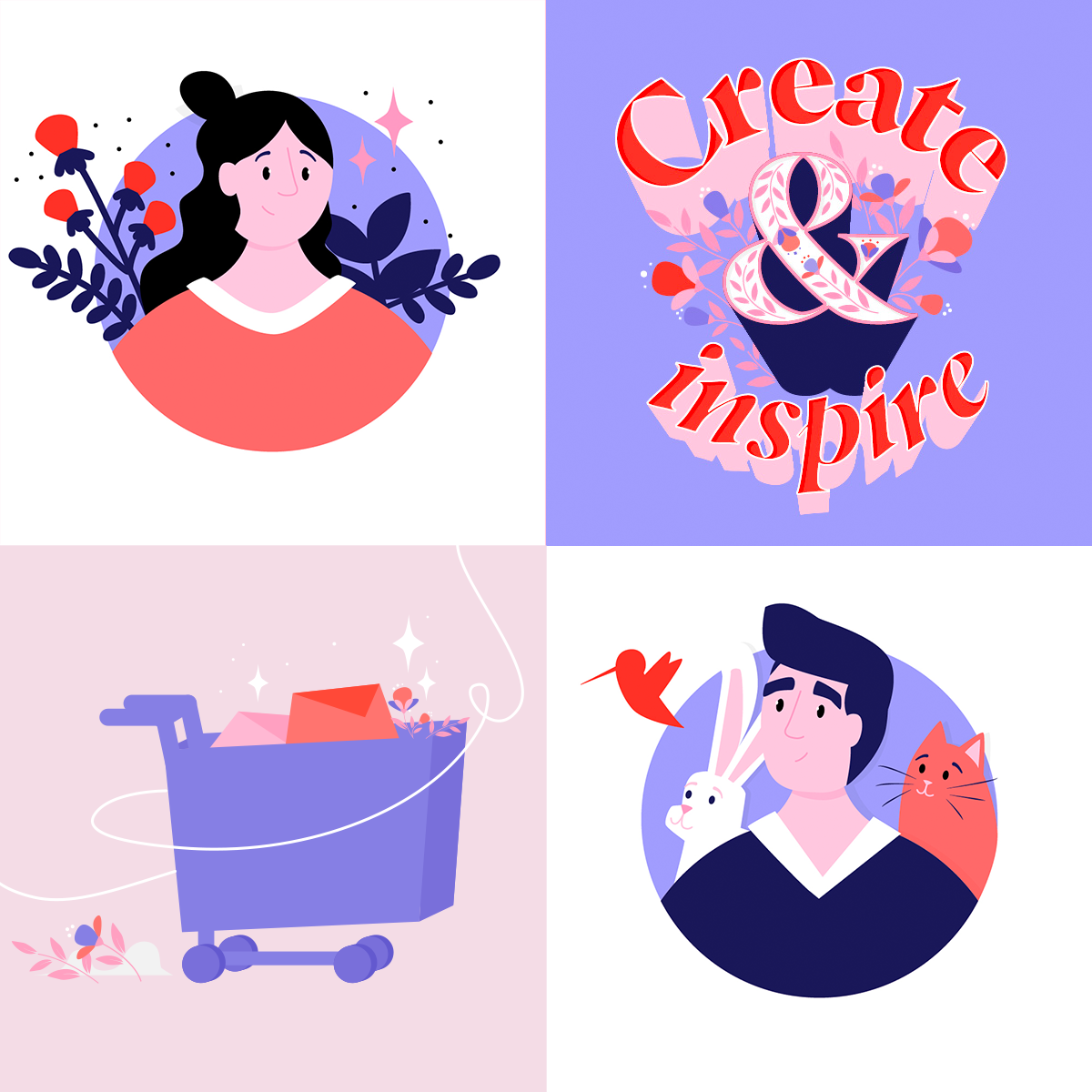 A few words about yourself?
Hey, I'm Milena and I was born and I live in Sofia, Bulgaria all my life.
I have a huge passion for communication and social media platforms (especially Instagram). I enjoy developing visual strategies to reach audiences online using the platform's provided tools. (Like stories, IGTV, quiz tags, lives, etc)
I am also a big low-waste enthusiast and always seek ways to reduce my waste and carbon footprint in my day-to-day activities. I like to share my progress in my Instagram profile @milena.trifonova. If I can, I would watch Planet Earth, Our Planet and such nature-related movies all day long. I currently have 23 plants in my small apartment and in summer they double. :D
I live with two roommates - my lovely boyfriend and my sweet dog - Pluto, a 1-year-old cavalier spaniel.
Do you usually work remotely or only due to the pandemic?
I started working from home in November 2019, so I'm a bit of a newbie in that field. Before that, I've worked for a company where remote work was approved and liked to steal some highly productive days away from the office.
When did you start and what challenges did you face in the beginning?
I started working completely from home 5 months ago when I started my creative business. The first months I decided to not look for clients or work and just rely on inbound inquiries, due to years worth of overworking. I was very drained and not really creative, I was struggling to find the motivation to proactively do something even for myself or my hobbies. I am now getting back my sh*t together and having a good routine to stick to helps a lot.
To anyone starting out to manage themselves now, I would also recommend using a calendar blocking system and the good old to-do lists. This could be achieved in software or with a simple pen and paper. It helps me a lot to stay on track and see how much I've done. I've been doing this all my work life and now I see how much It shaped my working habits.
To anyone starting to work from home now, I would recommend sticking to their own personal work routine as much as they can. For example, If you are used to chatting by the water cooler with colleagues in the morning, do it again but online on your balcony. Or if you like to work hard in the morning and then slack in the afternoon, don't wake up late stick up to your office habits.
What are your pros and cons of remote work?
Here are some pros that I noticed: management my own schedule and clients pipeline; management of the space around me like temperature and airflow; access to good home-cooked food (this was impossible to find in the city-centre); access to dog kisses in the middle of the day.
I recently found that I am also one of those people that don't have consistent productivity levels through the month. I have a monthly-based work schedule, not a weekly or daily one. In some days of the month I might have a half-day watching YouTube and Netflix on the couch or drawing random stuff, other days I might score 15 hours of hard work. Having the luxury to make these choices really helps my work quality.
One huge con is the lack of human interaction. However, since the quarantine happened, my boyfriend is also working from home and I really enjoy that we can chat during the day and have lunch together.
What is your workspace setup?
I work on an IKEA desk with drawers around me full of art supplies and a big window. Light is extremely important to my work quality. I also love to have all my pens and brushes nearby for when inspiration kicks in for a project. My digital weapons of choice are a MacBook Pro 2018, 15" and an iPad Pro 2019, 13", since the Sidecar function my Wacom is collecting dust on the shelf.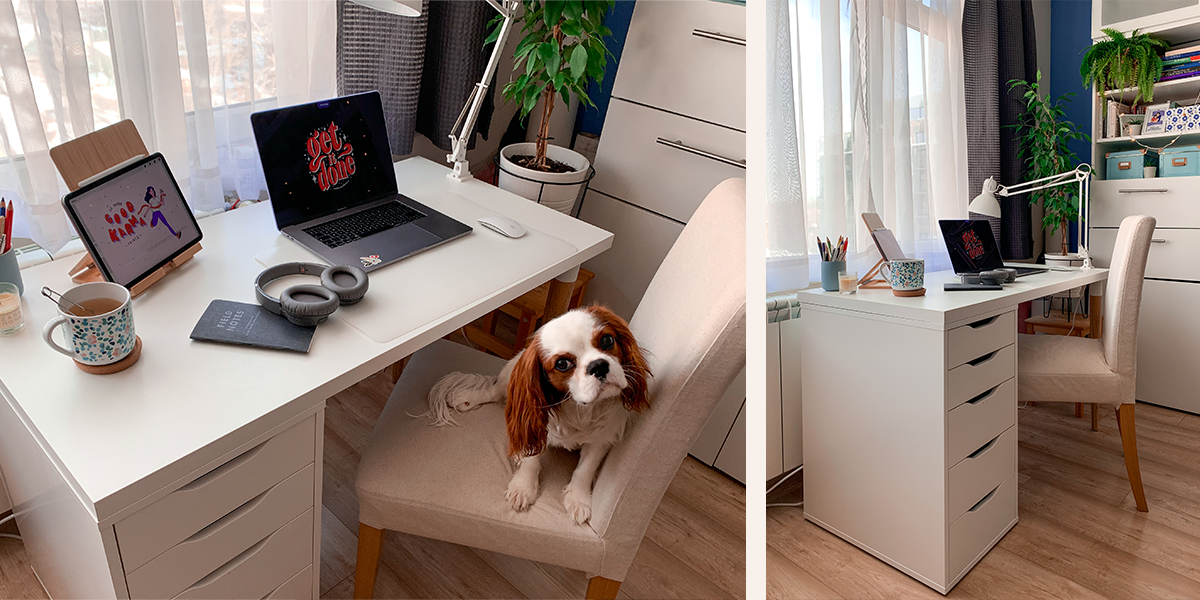 What is your typical day like?
My routine quite changed after the quarantine due to the fact that my boyfriend started working from home recently as well and we are still figuring out how to build a schedule that fits both of us. But here it is roughly:
We wake up together around 8 (it was earlier before and I really miss that). In the first hour, I check my DMs and emails, while drinking my coffee in bed. Then, I alternate days of 1 hour of either posting and doing stuff for my Instagram or doing yoga. Then around 10:30, I start my true workday by having a quick 30-minute drawing warm up with a lite breakfast and then get to the most important thing for the day. At 1 pm we both have lunch and I take Pluto out for a walk. This splits my day with physical activity and really helps me out to keep my energy up. The afternoon is for more primarily manual work and I like to play an audiobook in the background. I stop working at 6-7 pm. Afterwards, we cook dinner together and watch a movie, talk online with friends and family, and play some games.
How do you stay focused and healthy?
With mindfulness, good food, vitamins, yoga, good noise-cancelling headphones while your boyfriend makes his 8th call for the day, and most importantly a good routine and sticking up to it.
What collaboration and communication tools do you use?
I'm a huge email person. I know it's wired in these digital days but I feel like in emails, people don't forget to leave out stuff, they are more punctual and I like to get back to their brief when working. I have the pleasure to know most of my clients in person and before working together we do an old-fashioned meeting 1-to-1. Then an occasional call is enough. Thanks to the quarantine, I'm considering more video calls in the future as well, however, I like to get out of the house for a meeting. I like Milanote and I don't need any other tool than the Apple native apps like Calendar, Notes, Mail, etc. to get myself organized. I am also testing out bullet journaling on my iPad with Procreate.
Instant or asynchronous communication?
I'm not a fan of consistent instant communication, because this breaks my creativity flow and personal routine. I believe it should be used only when necessary for dynamic projects with very short deadlines. However, I do have a lean method of working with my clients so that we avoid unneeded pivots at an advanced stage of the project. It's important to communicate everything I plan to do in the most visual way possible frequently so that we know we are both on the same page while I isolate myself for "creative time".
Would you change anything in your regular working routine once the pandemic is over?
Yes, I consider more video calls with clients. Also, I would work more from cafes, parks and coworking. I miss going outside and being around people.
What is the funniest place where you've had to get your laptop open?
There was an emergency where the client wanted a last-minute change and I was in the metro, so I had to open my laptop, which was very scary. Luckily, I was using line 2 up to Vitosha station, where is not that bad. :D Nothing happened and the change was applied. However, it turned out that in the end, they didn't really need it. This was some time ago, at least a year.
No-pants, pajamas or regular clothing?
I'm all for dressing up for success, as it is called, to get my work brain on.
Would you like to add anything else?
Be nice to people, create and inspire! Also, there is no planet B. Check out this article I wrote and learn how to keep your digital waste at a lower rate. It is in Bulgarian http://zerowastesofia.com/digital-trash/
---