Interview with
Alexander Traykov
1 year ago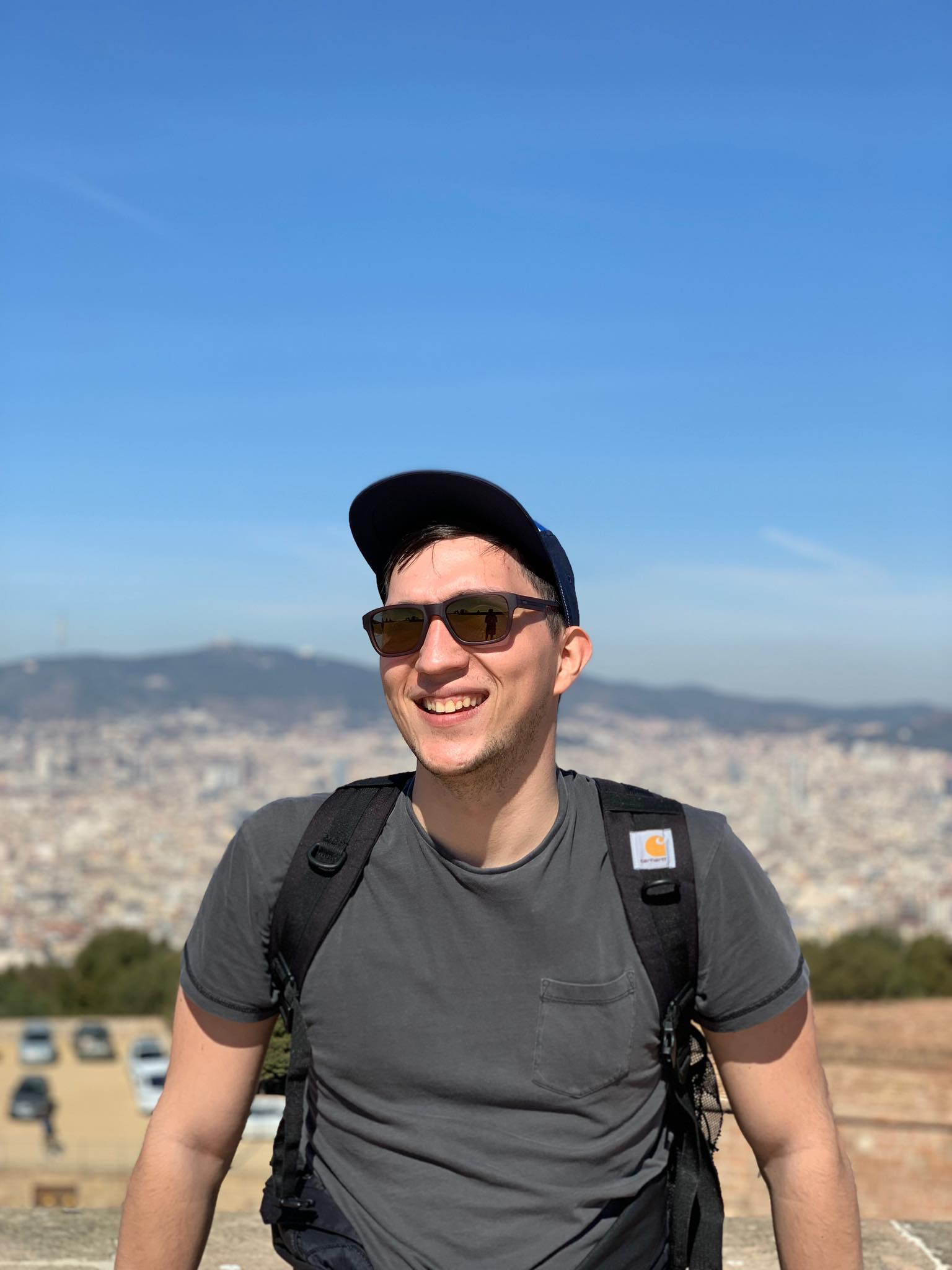 To detach, you have to set up routines
Alexander describes himself as a person that pushes pixels, writes some code and solves user's problems. In other words, he is a Product Designer.
He is part of Toptal - an exclusive network of the top freelance software developers, designers, finance experts, product managers, and project managers in the world.
Learn more about Toptal.
---
A few words about yourself?
My name is Alexander Traykov, a designer based in Sofia, Bulgaria. Since a young age, I have been very passionate about art, design and everything visual. My focus is on building meaningful projects that bring both joy to people and myself.
Do you usually work remotely or only due to the pandemic?
I am working in a remote-based company. All of the people working for Toptal are working remotely since there is no physical office.
When did you start and what challenges did you face in the beginning?
I dabbled in the world of design when I was 16 years old. I was lucky enough to be in a school in which design was taught as a discipline, and once this world unravelled in front of me, I was instantly hooked. At first, I was working as a graphic designer, and with time I moved to web and product.

The main challenge I faced at the beginning of my career was exploitation based on my lack of experience by different studios throughout Sofia. Sadly, a lot of young designers are experiencing underpayment, overwork and general shortage of approval for their work. From my experience the cause is the absence of confidence, self-worth and the dire need for a job. Those predispositions are the reason, which allows unjust companies to take advantage of such people.
What are your pros and cons of remote work?
For me, the most significant benefit of them all is that I am not stuck in an office. I'm not frowned upon when I take my laptop in my bag and go to work from a coffee shop, or when I go for a walk just to clear out my head. Nothing could weigh against this argument. Another huge benefit is the better work-life balance. For example, I'm working remotely, and because of that I can visit and take care of my grandparents, who have been stuck in their home before the quarantine, due to the age playing a factor in their mobility. The lack of commuting, lunch rush and pointless meetings that could be summarised in a Slack message are one of the many benefits of this mode of working. Now, while all written sounds great, there are some challenges that should be considered. Your cellphone becomes your mobile office, even after working hours.
Detachment is complicated, especially when passionate about your work.
Personally, I'm catching myself checking comments in the nighttime, just to stay updated. Isolation, lack of relationships among coworkers and a decrease in employee visibility are potential dangers when going remote, especially if not done right.
What is your workspace setup?
I'm working on my rusty MacBook Pro 13" 2015, with a Dell U2518D monitor and a Logitech MX 2. I always have my trusty Moleskine organiser with an IKEA pencil inside, in order to track my daily and weekly tasks.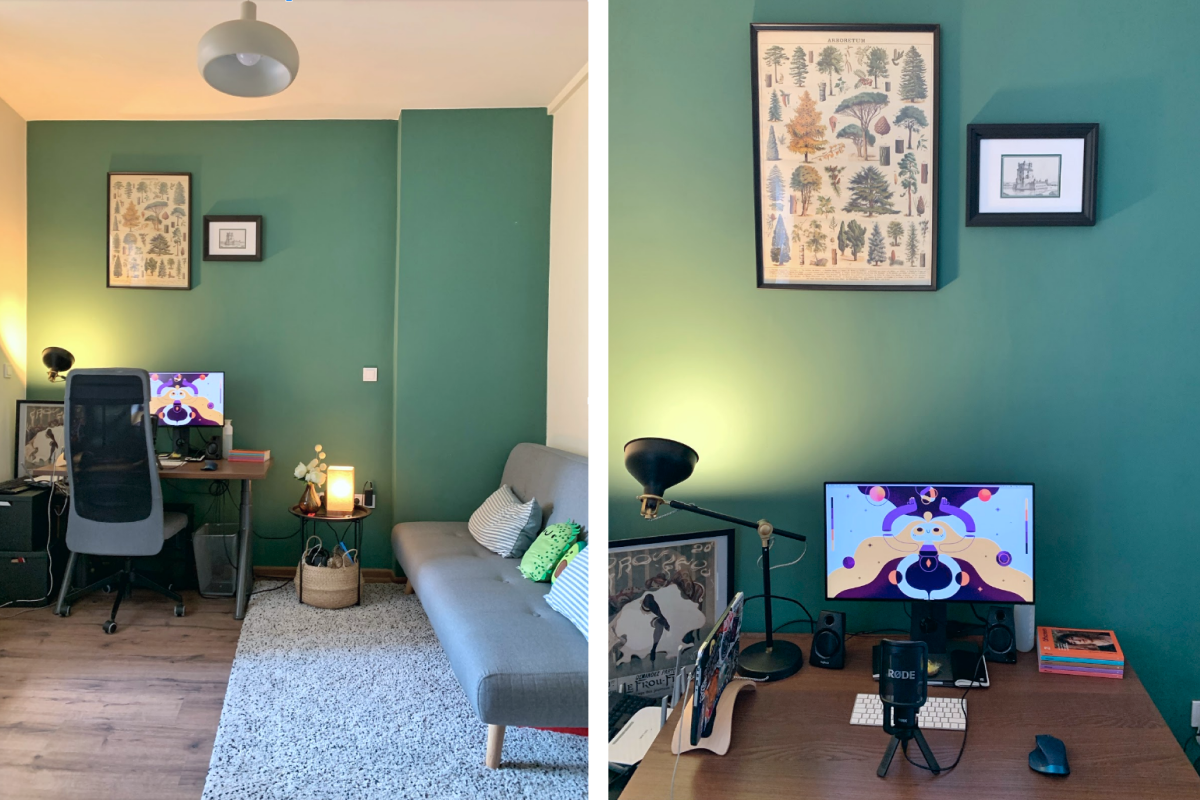 What is your typical day like?
I wake up, get out of bed to do my usual morning absolutions. After I get ready I brew some coffee, make us breakfast, meditate and then it's time for work. I usually start my workday at around 10:00. If possible, I hit the gym in the early afternoon; then I'm back at it. After I finish work, I usually go out for a walk with my fiance, or we stay home and cook something delicious together. In the late evening, I try to find time to code or work on my projects. In the past couple of days, after the work on my project is done, I spend some time playing Animal Crossing with my partner, or we watch some series, then we're off to bed. Half an hour of reading, a quick meditation and snoozing noises arise. Then a new day comes, the same process is still there.
How do you stay focused and healthy?
I have been working remotely for three years now, so I've found very fitting ways to keep my motivation, focus and health in tip-top shape. For me, the key to staying motivated is that my work makes sense, and it's meaningful. I've only lost motivation when I see that my projects have no positive, or even worse - no impact at all. Find meaningful work to do; then motivation becomes a permanence.

Finding focus while working remotely is tough, primarily if you work from home. Sure, you have emails to reply to, but you might have dishes to do, and probably your washing machine is roaring in your background. To detach, you have to set up routines. When having lunch, after you finish eating, do your dishes. Any housework is done outside of working hours. Period.
Regarding entertainment - please, if possible, don't use your "work machine" for your downtime.
We, as humans, build cognitive bonds with the locations and objects we possess.
If you get used to watching your series on your working device, at the moment you get an opening, you'll be half-way into the new episode, until pinged by your Product Manager. This only leads to unproductive downtime until you readjust back to work mode. If you only own one device, setting a room as an "office" still works wonders. I used to live in a tiny flat, owning a single laptop, so I set a rule - all of the entertainment is done in another room.

Having good health is all about habits. In the current quarantine, I have built the routine to workout after I close my laptop for the day. Don't overthink it much - any sort of movement is right - yoga, bodyweight exercise, cardio or even simple stretches could lead to long-lasting benefits for your body. I've found that meditation works well for keeping a healthy mental state, but such practices are not mandatory to keep your inner voice at peace. Reading, taking care of plants or pets, films, music or any process you enjoy would help out. Healthy habits - healthy mind.
What collaboration and communication tools do you use?
We use Zoom and Slack for synchronous communication. We use the app stack of Atlassian for general project/product management. In our design team, we rely on the powerful combination of Abstract and Sketch, to keep a proper version control for all our product work.
Instant or asynchronous communication?
It all depends on the importance of the thing discussed. I always advise asynchronous communication, since it's not as disruptive to the focus of people. Still, when important matters are being discussed, I believe it should always be synched up in chats, or even better in well-structured calls.
Would you change anything in your regular working routine once the pandemic is over?
I would probably work alongside people a bit more often. We are social beings; for us, the notion of human presence plays a decisive role for our mentality.
What is the funniest place where you've had to get your laptop open?
In the lobby of Eyefilmmuseum in Amsterdam. I have had the opportunity to visit a lot of cool places in this world, but for some reason, this stuck. The smell of coffee and the lights of the apartments softly reflecting in the canal waters brought a very nice atmosphere. A fun place where I had to have a "very important call" was the underground wardrobes of the National Museum of Arts in Berlin. It was not that fun. Really. It wasn't. But it definitely was an interesting place to work remotely from.
No-pants, pajamas or regular clothing?
As mentioned above, I believe we build deep relationships with the objects we possess. While staying in pajamas seems cozy, my mentality changes when I wear my regular clothing. It's almost like programming my mind that when I wear my "work-clothes" it's time for work. Who knows - I might just be weird?

---