Interview with
Kaloian Toshev
3 years ago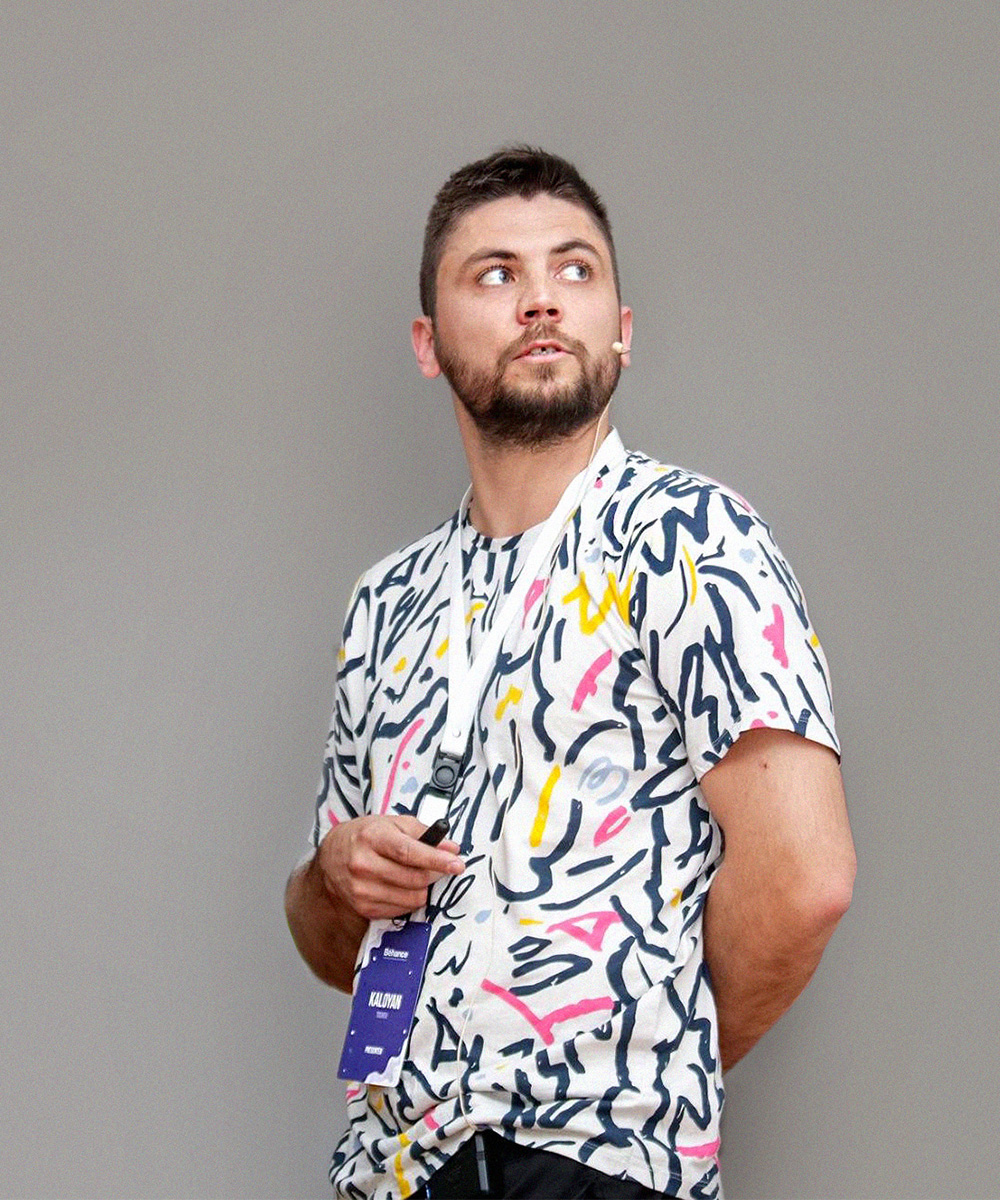 Don't get too stressed and try to train regularly and occasionally go out to catch some sun!
Kaloian, well known also as MZK, is an artist, illustrator, and designer. He believes art should be beautiful and we know that beauty conveys love and love is the thing that gives humanity a chance for a better tomorrow. So, he hopes he works for a better world. As a designer he is currently working on his own start-up Noble Hire focused on solving referral dynamics in the tech hiring industry. He also does occasional freelancing just to spice the things up.
Explore more of his work.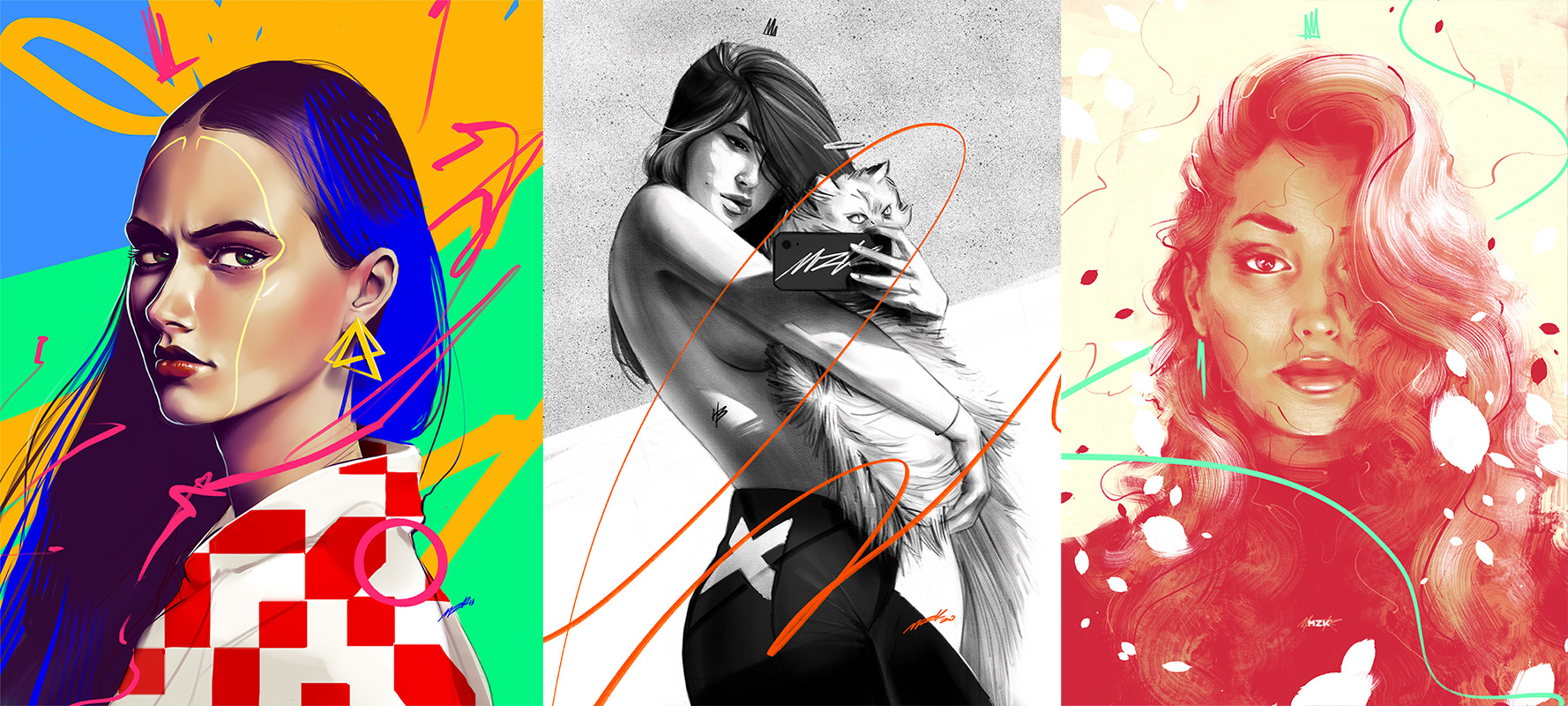 A few words about yourself?
I'm creative in general and that show in everything I do. I'm calm and silent most of the time and it's hard to get on my nerves. I really love extreme sports and try to practise big variety of them every possible weekend. Snowboarding, hard enduro, kite surf, wake to name a few. Also I'm practising martial arts and wing chun specifically, which opened the door for wide variety of eastern practises like yoga and qigong. I mainly read personal development books and articles. I listen to lots of music, love watching movies and going out.
Do you usually work remotely or only due to the pandemic?
I have my own studio and I prefer to work from there. In the past I've worked remotely from home but I'm much more focussed at my studio. Now because of the pandemic I've moved to my parents house so we can reconnect and of course not being alone.
When did you start and what challenges did you face in the beginning?
I had lots of remote experience as freelancer in the past and I'm mostly alone at my studio, so I didn't find any big challenges. Probably the main challenge was to stay focused now that the whole team is remote. We basically started working remote one day before the government declared that we should stay home.
What are your pros and cons of remote work?
To be honest I'm not a big fan of remote work. If possible I prefer everyone to be in the office so we can collaborate and communicate effortlessly. But this is not always possible as how the current situation is. Some of the cons are miscommunication, losing focus, procrastinating, easily distracting...
What is your workspace setup?
At my parent's house I have two workspaces. One is for messy art, and one for the computer and the tablet. In general, I really love big desks where I can keep all my stuff visible and in reach. It's really annoying when you are in the zone, you need something and it's not easily reachable.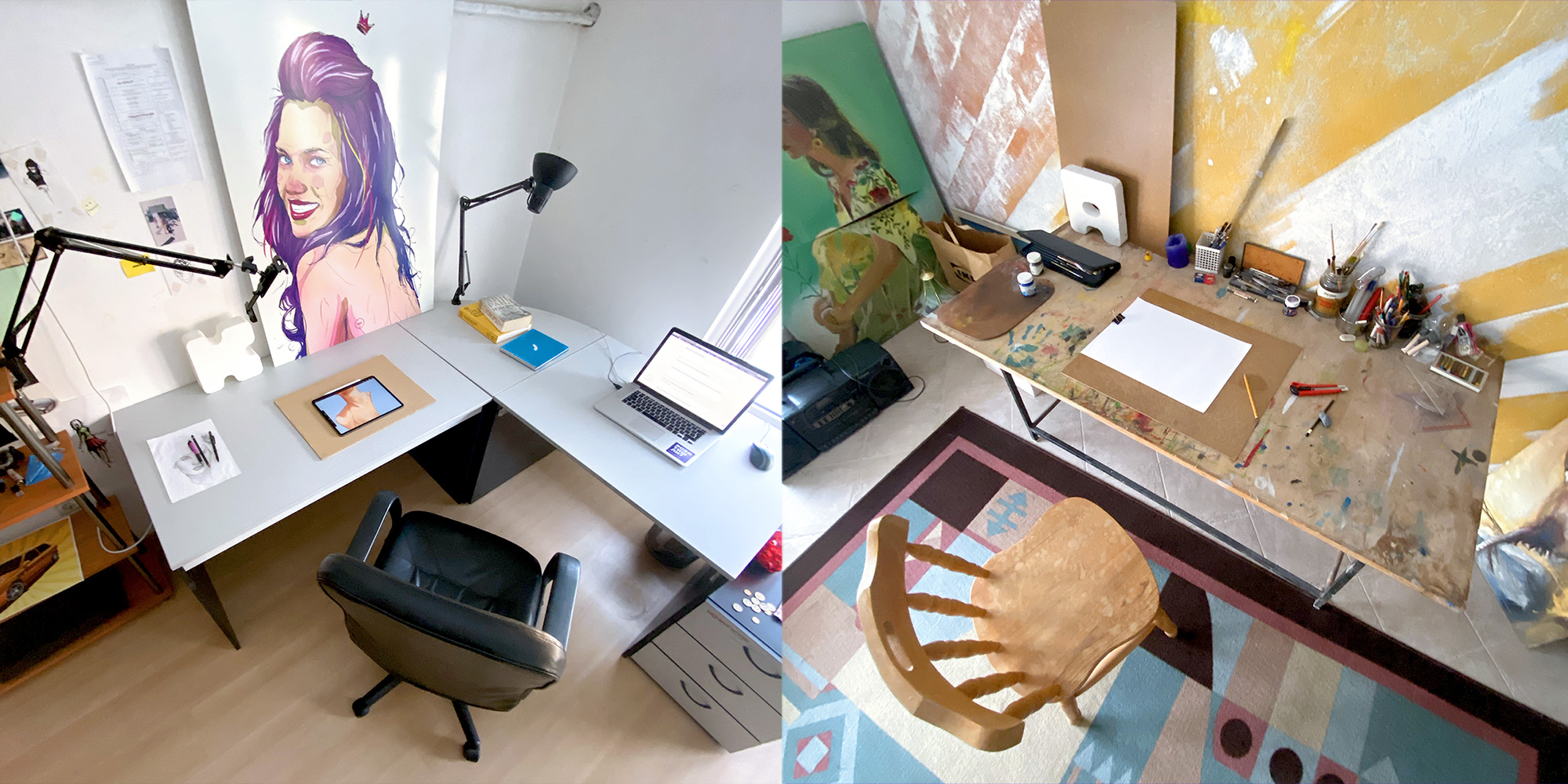 What is your typical day like?
Waking up at 8:00, starting with physical training, lately qigong. Then I read for a hour or so. Breakfast is fruit and tea. Then I start working and try to focus on more creative tasks first and leave the productive ones for the afternoon. The late afternoon is for recreation, sports and training. Dinner around 19:00. After that I do some yoga, draw and watch movies till midnight.
How do you stay focused and healthy?
Only fruit and tea for breakfast. Try to eat healthier food during the day. More green salads, less meat. I train almost every day and I do yoga almost every other day. Also, I've been running recently.
What collaboration and communication tools do you use?
Discord, Trello, Hangouts, Google Docs.
Instant or asynchronous communication?
We use both, however, we try to be all online and available to collaborate between 12:00 and 17:00.
Would you change anything in your regular working routine once the pandemic is over?
I'll return to my regular routine but I'll keep lots of new things that I learned during the quarantine.
What is the funniest place where you've had to get your laptop open?
It's a bar, late at night.
No-pants, pajamas or regular clothing?
Definitely home clothes.
Would you like to add anything else?
Love you guys, keep safe. Don't get too stressed and try to train regularly and occasionally go out to catch some sun!
---